Attention, bloggers: Due to the tragic events in Orlando Saturday night and their aftermath, we are extending the blogathon to give those who haven't been able to complete their posts time to post. We will definitely be posting through today, Wednesday, June 15 if there are still people who want to participate. Today, Day 6, is here at Second Sight Cinema, so please post your links in comments below. Both this site and cohost CineMavens Essays from the Couch will post a full-roster recap tomorrow, Thursday, June 16. Also: Please make sure to link your banner and text links to back here—if you send readers to the other host's website they won't see any of that day's posts! Thank you again for being part of Order in the Court! And if you feel like tweeting when you post, please do so at #COURTROOMMOVIEBLOGATHON. 
Oyez, oyez!
Welcome to Day 6, the final day of our courtroom extravaganza! In the first five days we saw a huge range of posts, including one a lesser-known Hitchcock we ought to get better acquainted with (The Paradine Case) on lynching (Fritz Lang's Fury), Louise Brooks's Lulu in Pandora's Box, Kramer vs. Kramer, and the Three Stooges—from the tragic to the sublime to the ridiculous, and now we swing into Tuesday with lots of good stuff still to come. Leave your link in a comment with your blog name and movie title below this post or tweet it #COURTROOMMOVIEBLOGATHON or @zleegaspar and I'll add it to the roster of live links. We've had a few last-minute sign-ups and guest posts, and we're thrilled you chose to get into the act! 
We appreciate all of the writers taking the time to participate! Please be sure you've included one of our banners (from either of our websites) in your post, and link it back to the day's host post (that would be me today). And don't forget to to stop by the other writers' websites and have a look at their posts over at my delightful cohost's place, Cinemaven's Essays from the Couch!  We'll both be posting a full-event recap tomorrow, June 16. 
Sunday, June 12
The Ox-Bow Incident / Sometimes They Go to Eleven 
The Crucible / Moon in Gemini
The Mouthpiece / Pre-Code.com
Attorney for the Defense / Immortal Ephemera 
Read More
Oyez, oyez! Welcome to Day 6, the final day of our courtroom extravaganza! In the first five days we saw, among others, posts on Hitchcock worth knowing better (The Paradine Case), lynching (Fritz Lang's Fury), Louise Brooks's Lulu in Pandora's Box,... read more
Second Sight Cinema Live Coverage From Hollywood
at the 2016 TCM Classic Film Festival!
[April 28-May 1]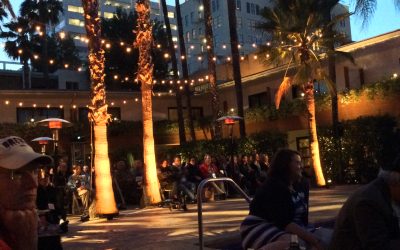 And so we come to the last day of TCMFF 2016. I was already feeling it on Saturday, and of course Saturday's events and pace and the least sleep yet went a long way toward creating a detour from my still excited but increasingly weary mind and my mouth, which... read more
From my comfortable perch back at my friend's house in North Hollywood,  the intensity, mad dashes, glorious experiences, and occasional frustrations of TCMFF 2016 seem rather remote, Gentle Reader, but at this time a little over one week ago I was watching Dead... read more
Greetings, gentle reader! After another refreshing 5 hours of sleep I'm off to the day's delights and trials, of which more in a moment.  Here's what happened yesterday: I hot-footed it down to breakfast at Club TCM, where I got to shake Leonard... read more
Greetings, gentle reader, from Hollywood! Here is a breathless post to begin my coverage of the festival, before I head out into Day 1. First stop: Karie Bible's tour of Hollywood Forever, the cemetery where many classic film Titans found their final rest.... read more
The countdown is on! TCMFF 2016 opens Thursday, April 28, and Second Sight Cinema will be your eyes and ears from opening night on the red carpet to the closing night party. I'll be posting capsule reviews, photos, and videos from screenings and events... read more
Oyez, oyez! Welcome to Day 6, the final day of our courtroom extravaganza! In the first five days we saw, among others, posts on Hitchcock worth knowing better (The Paradine Case), lynching (Fritz Lang's Fury), Louise Brooks's Lulu in Pandora's Box,...
"McPherson, if you know anything about faces, look at mine. How singularly innocent I look this morning. Have you ever seen such candid eyes?"  "Laura considered me the wisest, the wittiest, the most interesting man she'd ever met. I was...
What do Duck Soup, Anatomy of a Murder, The Story of Temple Drake, and Adam's Rib have in common? Whether dramas, comedies, or tragedies, they're all courtroom movies. What's your favorite? Second Sight Cinema and Cinemaven's Essays from the...
The Invisible Man is a bit of a stepchild among James Whale's Universal horror films, which is understandable since Frankenstein (1931) and even more Bride of Frankenstein (1935) were not just sensationally successful at the box office but embedded...
Mary Astor's memoir A Life on Film is fantastic—she's a wonderful writer, and her sharp observations on the industry and what went on behind the cameras are fascinating and incredibly useful to anyone who writes about classic film. Astor writes of being...
 Oscar snubs has got to be one of the juiciest of blogathon topics—we're all so passionate about it. Myself included…At the moment, working on this post, I am mad enough to spit that Barbara Stanwyck, who might be my very favorite actress of all time (if I...
Remember: If it bends, it's funny. If it breaks, it isn't. —Lester (Alan Alda), Crimes and Misdemeanors There was nothing funny about it when Buster Keaton broke.  Keaton's fall is legendary. Most of the time it's told sketchily, and too often...
Elizabeth Taylor won two Best Actress Oscars, for BUtterfield 8 (1960) and Who's Afraid of Virginia Woolf? (1966). The first she perhaps rightly dismissed as a pity vote. The second she won fair and square, and I hope it meant something to her. Until fairly...
John Huston and Humphrey Bogart made six movies together, six points of intersection over their long careers. Three of the six were crucial in the careers of both men: The Maltese Falcon (1941), The Treasure of the Sierra Madre (1948), and The African Queen (1951)....
The Strange Love of Martha Ivers is a total kinkfest, and if you're new to it, you can use a little help learning the ropes. I'll be happy to show you around. Time Out's synopsis is as concise and elegant as could be, so here it is: "Superb...
Fasten  your seat belts. The Gang's All Here is too much. It's the thrill ride of Hollywood musicals. If you've not seen it but have seen other Busby Berkeley movies you're thinking, Yeah, got it. But all the fabulous excesses of Berkeley in...
We're live! Welcome to the You Must Remember This… Blogathon!  Kisses blistering and chilled, delirious and hard-boiled, Judas kisses, cartoon kisses, and of course the kiss-off… Here's our Valentine's Day celebration of screen kisses....
This post was written for the epic Criterion Blogathon sponsored by Criterion Blues, Silver Screenings, and Speakeasy, running from November 16-21 with more than 170 entries (!). Do yourself a favor and check out the roster—it's amazing, it's...
Where all parents are strong and wise and capable, and all children are happy and beloved… —H.I., Raising Arizona It's an intense little face. The Cupid's Bow mouth and tiny, turned-up nose sit beneath large, dark, deeply serious eyes. Dickie...
I Know Where I'm Going (1945) gets under people's skins. It's not exactly a GWTW– or Star Wars-type blockbuster. But some of its fans are so passionate that they follow its heroine's path to the western isles of Scotland to visit the sites they...
 "Where have you been all my life?" That's how I feel when I see a movie for the first time and fall totally in love with it. The Ghost and Mrs. Muir was a movie I had certainly heard of, but I knew the title from the Hope Lange TV series of the same...
 William Wellman directed five movies in 1931, and Safe in Hell was the last of them. The movie was made under the same conditions as the other four, pretty much the same as several hundred others released that year by Hollywood studios. The mass production methods...
Summer Under the Stars presents Nicholas Ray's The Lusty Men, part of TCM's 24-hour tribute to Robert Mitchum "There never was a bull that couldn't be rode, there never was a cowboy who couldn't be throwed…. You eat a little dirt if...
Real life and entertainment, politics and policy. The Bonus Army—Herbert Hoover, FDR, and William Randolph Hearst, Gabriel Over the White House; Busby Berkeley and "Remember My Forgotten Man" in Gold Diggers of 1933 The movie industry's successful...
I Like a Man That Takes His Time "You look like a high-type, clean-cut, nice young fellow." What's really hard with a movie this delightful is to write just about one scene, even a scene this great. A brief digression: I'm posting this an hour...
What happens in Alphaville, stays in Alphaville. Fifty years ago, during the coldest January the city had seen in years, Jean-Luc Godard and his crew took to the streets of Paris to film Alphaville, une étrange aventure de Lemmy Caution. Godard was in the midst of an...
The opening: The Mondrian carpet, the computer, clattering typewriter… the sprightly, lighthearted music tell us that it's a comedy. Here is how I first saw Desk Set: At about 2:30am after working a double shift, one at Forbes and another at Newsweek, I...
Eighty years after its original release, James Whale's The Bride of Frankenstein just keeps getting better That wasn't the end at all…. Would you like to hear what happened after that? I feel like telling it…. It's a night for mystery and...
Part II Deceit, Desire, and Survival: Marlene Dietrich in Josef von Sternberg's Shanghai Express (1932) and The Scarlet Empress (1934) A missionary wins the heart of a poetic warlord, a woman of mystery wins back her untrusting lover, and a promiscuous princess...
Here are three pre-Code films about women from the West who find themselves in dangerous situations in exotic lands (China in two, Russia in the other). The women are thrown upon their own resources, their ability to adapt and survive, with little or no support or...
The Girl Can't Help It (1956), Jailhouse Rock (1957), Les Girls (1957) Two classic but revolutionary rock'n'roll movies and one golden-age Hollywood musical, made in the twilight of the genre and the studio system. If you know The Girl Can't...
March 10, 1938 The Biltmore Hotel, Los Angeles The 10th Academy Awards Banquet was almost over, with only the two top awards left to present. Everybody was anxious to hear who had won Best Director. The nominees were among the era's most formidable...
In 1926 Buster Keaton, one of the most successful comedians in Hollywood, released The General, his eighth feature. It was a masterpiece, now considered by many to be one of the greatest films ever made. But things were different in 1926, and in the wake of the film's...
At first Miriam Hopkins did not want to play "Champagne Ivy" Pearson, the charmingly carnal little bird who is infatuated with Jekyll and abused and terrorized by Hyde. When director Rouben Mamoulian offered her the part, she set her jaw and said No. She...
This post is part of the Contrary to Popular Opinion Blogathon, where we set the consensus on its head by defending a maligned film, performer or director or toppling a beloved one! Stella Dallas is still much beloved 78 years after it was made, and a favorite to many...
This post is part of the 2014 What a Character! blogathon. To see more, click graphic (above).  "Acting is a ridiculous profession unless it is part of your very soul."  —Peter Lorre Even people who have never seen Peter Lorre in a...