Prison movies, like gangster movies, were among the new genres that developed with the advent of sound. Gangster movies were dependent not only on the staccato sound of rapid-fire dialogue but the sound of automatic weapons, wheels screaming during chases, while prison movies relied on the sound of synchronized masses of men marching, of cell doors clanking shut tight, of the cacophany of the dining hall…
As Doherty points out, gangster and prison movies are heads and tails of the same coin: the gangster is the criminal at large, making up the rules as he goes along until he is called to account, while the prisoner is the gangster who, rather than going down in a rain of bullets, gets caught and now must live under strict discipline, rules made by others.
The cycle began in 1930 after a tragedy at the Ohio State Penitentiary: When fire broke out, guards feared a mass escape and so refused to open the cellblocks. More than 300 men died in the blaze. Within months of this horror two plays set in prison opened on Broadway. And Hollywood was off to the races, putting no less than seven films into production before the end of that year.
As the country teetered on the brink of social collapse, prison movies aired the suspicions of a people sensitive to what Doherty calls "the mechanisms of social control." They confirm the fear that even if the state cannot restore employment and prosperity, it still retains the power to curb threats to domestic tranquility.
Prison movies relied on inmate uprisings, a narrative convention that made wardens very nervous. They feared the anarchy onscreen would give their prisoners ideas. And while some of these films were hits—perhaps most famously The Big House (1930) and I Am a Prisoner from a Chain Gang (1932), exhibitors weren't crazy about them because they didn't appeal to women at all, and the last thing they wanted to do was alienate half their potential audience.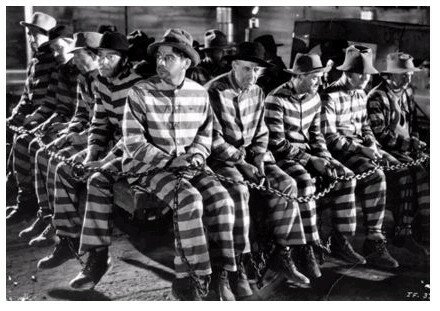 As with other genres, the prison movie had subgenres: women's prison movies (Ladies They Talk About, 1933), prison comedies (Hold 'Em Jail, 1932), and juvenile prison movies, like today's feature, The Mayor of Hell (1933).
The Mayor of Hell. Opening scene: The kids sell protection for 25 cents.
There was enormous concern about the effects the Depression might be having on young people, and juvenile prison movies came out of that anxiety. While the juvenile delinquent movies of the 1950s were concerned with psychological and emotional causes, in the early '30s it was clear that the problem was economic—that young people grew hard and indolent (if not outright criminal) because their futures were foreclosed.
Doherty says that while women's prison pictures had their own obligatory sin scenes (women in showers, women in scanty prison garb, women fighting each other) the juvenile prison movie actually spoke to the "cultural moment": "It exposes the fears of a bewildered society no longer able to guide or restrain the next generation." The Jazz Age generation's crisis had been cultural, as they shook off Victorian social norms. The crisis of the generation coming of age in the early Depression was economic, "a protest against dead-end options that exploded in disruptive, sometimes lawless behavior."